Luiz visited us in Yorkshire for almost a month this Summer. The images shown are quick Plein Air studies, on the go!
I spent the month of June painting in Yorkshire, England. It is one of the most beautiful places in the whole world and paradise beauty for any artist.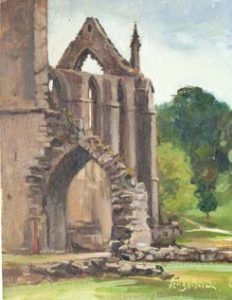 Rosemary & Co Artists' Brushes hosted two painting workshops in their premises and around the area. The first one with Michelle Dunaway, we were out and about painting the landscape and the figure in the landscape. Michelle was a wonderful adviser, always helpful and sharing her thoughts in art and the life of an artist. A true inspiration! We had a fantastic time painting at Bolton Abbey for two days.
On the second day, we painted model Ross dressed in character – A real Yorkshire man! I didn't feel the time passing by, I was so immersed in capturing the scene. I stayed for the second workshop with Michael Klein, painting florals. I've been such a fan of his work so it was like a dream for me to be able to paint flowers with him. The set was Rosemary's orangery, a stunning place and each student had the most beautiful flower arrangement to work from. In the mornings, we watched Michael develop his own piece, and I had to sit really close to him and see how he handled the paint and his brushwork technique.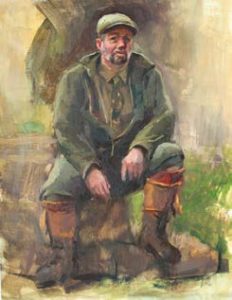 "I LEARNT that the POSSIBILITIES of painting are INFINITE!"
We all watch videos but nothing compares to the experience of observing an artist responding to his subject matter right in front of you. With these workshops, I learnt that the possibilities of painting are infinite! And more: it helped me to find out what is really important to me. I also had the opportunity to explore the area on the days before and in between classes. I met old and new friends and enjoyed the camaraderie whilst going to places like Haworth (where the Brontë sisters lived) small villages in the neighbourhood and idyllic places like Malham Cove.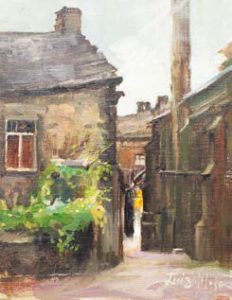 Last but not least there were Rosemary and Symi (who showed us how to make brushes in two demos and shared tips on how to take care of your brushes – really helpful!) and their team striving to make our experience unforgettable! I like to quote from the master:
"There are moments in our lives, there are moments in a day, when we seem to see beyond the usual – become clairvoyant. We reach then into reality. Such are the moments of our greatest happiness. Such are the moments of our greatest wisdom. It is in the nature of all people to have these experiences; but in our time and under the conditions of our lives, it is only a rare few who are able to continue in the experience and find expression for it." – Robert Henri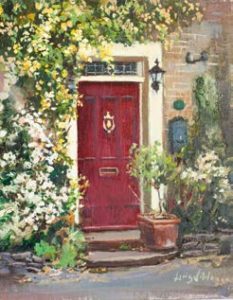 I feel truly blessed and thankful.
Images courtesy of Luiz Vilela. Please visit Luiz's website