Rosemary & Co welcomed Michelle Dunaway and students to paint within the grounds of the workshop and around the Yorkshire Dales.
In the month of June 2018 we welcomed Michelle Dunaway and a group of students to Yorkshire ready for a workshop on the figure outdoors. Each day we headed to different locations and placed a model in what I would consider, the most beautiful landscapes. Close your eyes and think Pride and Prejudice and you'd be almost there. Michelle had asked that I make it timeless – so that's what we did!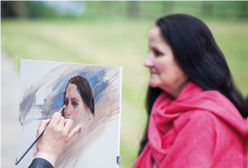 Each morning the students arrived at the Rosemary Brushes workshop early and eager to go out and paint! Plein Air is tricky at the best of times, but with Yorkshire's seemingly unpredictable heatwaves of late – this was set to be a challenge! Fear not I thought, folks on these workshops are usually most understanding and roll with it. And that they did! The weather turned out to be a friend not a foe. We were actually wearing shorts asking for cold drinks, not piling on coats and hugging a cup of hot chocolate!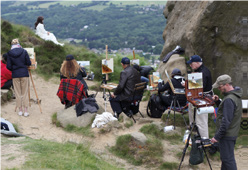 The students came to me throughout the week to let me know how much they loved the area we are lucky to call home, and also to tell me how much they were learning from their maestro – Michelle. I have to say, the landscapes I can take very little credit for – Yorkshire is beautiful and I'm the one who's lucky to live here.
Two of the days we visited the grounds and painted amongst the ruins of my favourite estate, Bolton Abbey. To think that Turner was painting in the same place as us some two hundred years ago gives me goose bumps.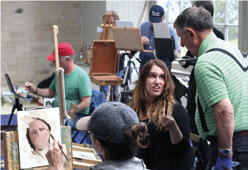 I always think about how things must have been for him as a painter back then. He didn't have the luxury of squeezing any colour paint out of tubes, or of the most lightweight, compact easels on the planet. Turner didn't have over three thousand Rosemary Brush ranges to choose from either! But then I think – if he did can you only imagine what he would have painted! How could he have been any better!? Now, I know I'm dreaming here, but quite honestly, it makes me think of what our masters of today have at their finger tips. Never the less, you can have all the tricks of the trade at your finger tips, but that does not mean you can sit in front of the most beautiful ruins with a model and paint like Michelle Dunaway. That is talent, years of hard work and a million brush miles.
These workshops started because Rosemary and I wanted to bring our friends to Yorkshire. We figured we travel so much, it's about time folks come to us! We never dreamed we could bring the world's best artists to Yorkshire and teach! If you ever get the chance to join us on one
of these workshops, I'd urge you to do so. The teaching ability is sensational, the general running of the workshop is by me (so it's a little nuts, but it's sure to be fun!) and of course, I have beautiful Yorkshire to thank for the most incredible backdrop, a painters paradise. We tried to capture a slice of this workshop on Youtube. Check it out!