"That painting´s really good, it looks just like a photograph!" went the comment."Uh-oh!" I thought "Back to the drawing board…"
As much as I love photography, I want my paintings to be expressions in their own right. I´m not an abstract artist, although I love abstract art. I am inspired by shape, light and form and want to include these in my work.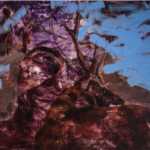 I love realistic art but I have been looking for the sort of freedom which allows a liberal dollop of artistic licence! I find myself caught between the desire to render an image faithfully and yet abstract it, play with it and create something new. Such comments (as above) started a journey to capture the essence of what inspires me about an image in the first place but allows me to express something that is not in the scene but speaks to me in my imagination. The brushes I used before did not help me achieve this. They splayed when I needed them to hold their shape, they dripped paint, the outer hairs would rub off – where did they go? – and they shed loose hairs at the most inconvenient moments! Working with acrylics I had to remove these before the paint dried.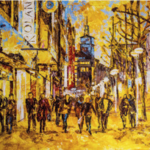 A lot of unnecessary effort was expended while I compensated for all of this. Sometimes I just wanted to complete the picture and leave any playing with the image and experimenting for another time. There comes a point where the initial impulse dies and the painting loses spontaneity and looks overworked. I wanted to avoid this at all costs. That's why I was thrilled to discover your brushes. Painting has become so much more of a pleasure, as I have brushes that work with me, not against me. They have freed up energy and thinking time – sometimes only one brush-stroke is enough to complete a figure or suggest a window. They make a statement. Your brushes support a creative process where I can paint realistically but take artistic licence where I choose to. Needless to say, I have more confidence to experiment and take more risks. I´m enjoying a new freedom in my work. My latest paintings have been inspired by a visit to Sri Lanka this year. Just as our memories merge and blend the people we meet and the places we discover, the images do the same in my work. The colours are as intense as the brightly coloured temples, the smell of the spices and flowers.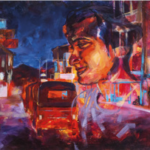 My sketchbook, diary and camera travel with me wherever I go. I cannot wait to return to Sri Lanka one day with its enormous variety of landscape, animals and nature. Thanks to my photographs and sketches I can capturequick impressions but this is not enough for me. Painting helps me not only to re-live the experience but explore the images. The result is an expression of something personal, a mini-adventure with brushes and paint that a camera cannot capture.
Images courtesy of Judy Krauss. Please visit her website