Mary tells Rosemary & Co about her path into the world of art…
I have been a Rosemary customer for a couple of years now, having learned about Rosemary brushes from my art teacher. I use your brushes almost exclusively, and now I cannot be without them! My particular favourites are the Shiraz short filberts.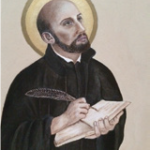 I hope my story might give encouragement to others who are considering venturing into the world of art. I was born and brought up in England, but have lived in the United States for over 30 years. I started painting four years ago almost by chance, when a friend at church suggested that I take her religious iconography class. I was reluctant at first – still working full time and wondered how I could fit this into my busy schedule, but went along, admittedly half-heartedly. Little did I know that it would open up a whole new world for me!
After that first class, I began taking lessons from Ma Ly, a French-born art teacher here in Fresno, California. I have learned so much from him, but am still such a neophyte! I paint in acrylics and particularly like working with wooden boards. The majority of my paintings have been icons, but I also enjoy still life, and have just completed my first portrait. I have had several commissions!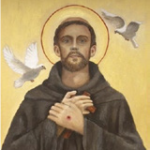 I retired a year ago, and now have more time to devote to my art. What wonderful therapy it has turned out to be! There is a whole theology behind iconography: every brushstroke is a prayer, and the artist comes to know the subject very well as the weeks go by. Icons are also therapeutic for the recipient. I find it gratifying and humbling when people tell me that my paintings give them comfort.
Find Mary on Facebook:
Mary Fotheringham Art