Billy Seccombe is a painter represented by Dacia Gallery in NYC. He instructs painting & drawing at DuCret School of Art in S. Plainfield, NJ.
A recent weekend getaway to the Finger Lakes region of upstate New York marked the beginning of a newly found love in plein air painting. With it's rolling hills and vibrant autumn colours, the region offers a certain peace and tranquility.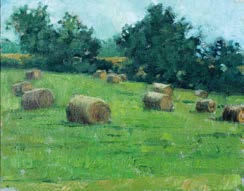 Racing to set up my paintbox at the crest of a mountain top overlooking a valley, I quickly began to apply paint to my small canvas in the diminishing afternoon light. It was exhilarating, electrifying, and I was completely alone. The painting and I were one with nature.
"High atop Flint Hill Road … silence was my companion."
The once Native American fishing and hunting low-lands of Cheesequake Park in New Jersey have a tranquillity to it that I find myself returning to as well. There is a calmness here I often seek. It was sparsely populated that Thanksgiving day, overcast and cold. I found myself at one with the marsh land, distant purple-gray hills and sweet ocean air. My paintbox and I connected with the surroundings which can only be described as meditative.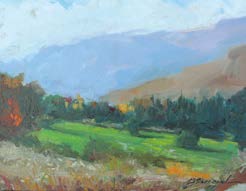 The honesty I found in my marks was something only painting from nature can offer. With plein air painting the pressures associated with portraiture quickly dissolve away allowing one to focus instead upon abstract shapes as though large pieces of torn paper. There is a looseness and bravery that come from this knowing. It was one of the most aware, fully alive moments of my life.
Images courtesy of Billy Seccombe. Please visit Billy's website