Starting 2018 on a different continent was definitely an adventure I'll never forget!
I was fortunate to be able to take a much needed three month sabbatical at the beginning of this year and back pack around South America with two of my friends. Here's a quick recap.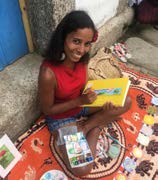 We started the trip in Buenos Aires, capital of Argentina. We visited the Museo Nacional de Bellas Artes which held many favourites of mine, including Sorolla, Monet, Renoir and Mancini. My best mate Jeremy Lipking had been there the year before and told me it was a must-see if I was able to visit. He was right! Wow! We then travelled down to Patagonia, the most Southern part of Argentina. We went on several hikes starting in the town of El Calafate, and explored the Los Glaciares National Park in El Chalten.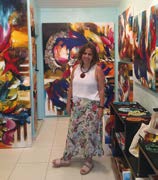 I'd only been able to dream of visiting Patagonia from watching my hero, David Attenborough through documentaries. To be able to actually go there was a highlight of my trip. Patagonia boasts the most beautiful vistas, electric blue glacier waters and sky puncturing peaks. This is
the land of few inhabitants and most beautiful natural forces, formed over millions of years. I thought whilst I was there; a painters paradise. We travelled through the north of Argentina to Iguazu National Park, A UNESCO World Heritage Site. We witnessed the waterfall from both the Argentinian and Brazilian Borders. I know many painters, including my friend, Alexandre Reider (pictured with his wife Eliane and myself ) have painted these waterfalls.
We headed through Uruguay and onto the beaches of the Southern coast of Brazil.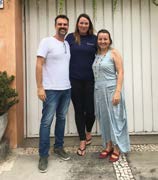 I was able to visit my friends at the Plein Air Studio in Sao Paulo. I'd been told about Reider and his wife through Richard Schmid and Nancy Guzik. We also had a mutual friend in Luiz Vilela (featured in this newsletter).
I set up the brushes for two days as a 'pop up' shop and I was able to talk through the different ranges with Reider's students. We're looking to do something similiar in January 2019, dates to be confirmed – watch this space on our blog!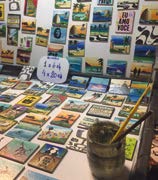 Reider and his wife took us to the most wonderful barbecue restaurant (Churrascaria Vento Haragano) where almost all the art work on the walls was from Reider! Aleandre joked with me and said, 'Welcome to my gallery!' – What a place and incredible food!
We made sure to stop at the Pinacoteca do Estado de Sao Paulo whilst we were there. The Pinacoteca has a wide range collection of Brazilian Art works and many 19th Century European Paintings too. It was certainly worth taking the time to visit, even if only for the building itself!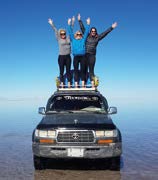 Then we headed to Rio de Janerio for Carnival! The streets were filled with locals and tourists dressed to impress. We visited the Sambadrone one evening and each corner you turn in Rio there's the most incredible street art. A highlight of my trip was taking a helicopter ride around the Christ Redeemer. Only then do you get an idea of the size and grandeur of that magnificent statue.
We left Brazil and headed to Calama in Chile. From there we travelled through the Atacama Desert into Bolivia to Uyuni. We woke around 4am to travel to the Salar De Uyuni, the Salt Flats (pictured above). After Patagonia, this was my next must-see. I also saw for the first time the breeding ground for pink flamingos – tens of thousands of them! The next stop was to be La Paz. This unique city was full of the hustle and bustle of everyday city life. We managed to squeeze in a day trip cycling down Death Road whilst we were there too. (pictured above).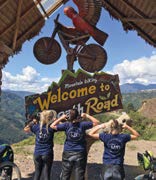 I ended my trip in a small village called Rurrenabaque, North West of Bolivia near the border of Peru. I lived in an eco-village for a week in the Amazon Rainforest! Another must-see. South America: an incredible continent offering so much variety. The art is vast and I can honestly say, I've only just scratched the surface with this trip. I'll be back!