We were approached by Rob some time ago, conveying his love for our brushes! We are lucky enough to receive lots of these lovely emails – but this one was particularly special to us.
Rob was born disabled, and from a very early age was taught to write, draw and paint with the implement held between his teeth by his home tutor.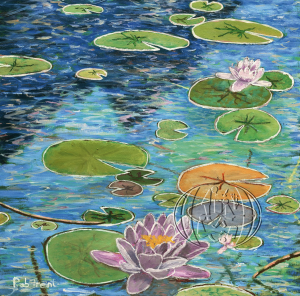 I recently asked Rob if he would be happy to be featured on the blog and thankfully he obliged, as I know our readers would be inspired. This is what he had to say:
"My tutor often told me about the Mouth and Foot Painting Artists (MFPA), and to encourage me they sent me a set of paints.
Although I enjoyed painting, I left school and focussed on finding employment. In that time I got married and we had a daughter.
It was in 1998 that I successfully joined the MFPA as a Student Artist. Working full time meant it wasn't until 2013 that I became an Associate Member.
In 2018 I retired from my job and threw myself into my painting. I found a brilliant art tutor, Kay Le Poidevin, who not only pushed me to try different styles of paintings, but who also introduced me to Rosemary Brushes.
The brushes were a 'game changer for me'. I found them really robust (a lot of my brushes previously got chewed up very easily), they allowed me to apply marks to my paintings in a much more thoughtful manner and best of all, I was able to choose the long handle brushes.
I've been using the brushes for three years, and last year I achieved my ambition of becoming a Full Member of the MFPA.
I'm also delighted that one of my paintings, produced using Rosemary Brushes, was selected as a card for this years MFPA Christmas pack!"
"Post Box Robins" Gift cards are available to purchase at this link: