Rosemary and Symi met Cesar in 2016 whilst on a trip to Cuba with 100 other artists. After meeting Cesar for only a few minutes it was clear that they were with a modern day master. Enjoy this interview! 
Santos' art education is worldly and his work has been seen around the globe, from the Museum of Contemporary Art in Sicily, Italy and the Beijing museum in China to Chelsea and New York. Santos studied at Miami Dade College, where he earned his Associate in Arts degree in 2003.
Cesar then attended the New World School of the Arts and, just before graduating with a Bachelor of Fine Arts, he dropped out to study abroad and to amplify his understanding of art. In 2006, he completed the Angel Academy of Art in Florence. He still visits this beautiful city with his wife. Santos' work reflects both classical and modern interpretations juxtaposed within one painting. His influences range from the Renaissance to the Masters of the Nineteenth Century to Contemporary Art. With superb technique, he infuses a harmony between the natural and the conceptual to create works that are provocative and dramatic. As a small company we are so proud to have a brush set with Cesar – a dream come true!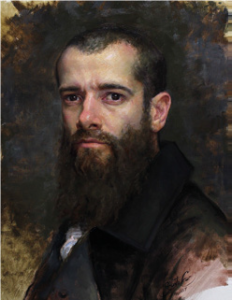 HOW DID GROWING UP IN CUBA INFLUENCE YOUR WORK?
Growing up in Cuba gave me the ability to seize every opportunity, to not take anything for granted. Communism keeps people from achieving their personal dreams, it forced my family to work hard for very little return. Emigrating from such oppression to a free society where I can enjoy the fruits of my art inspired me to work hard and honestly to better myself.
WHAT IS YOUR PROUDEST MOMENT IN YOUR CAREER?
My parents sold their only home and moved to a small apartment in a poor neighbourhood to be able to pay for my classical training in Italy. They never asked for their money back. Nine years into my career I was able to buy them a bigger house and in a better location than their previous one. That was definitely our proudest moment in my career.
WHAT ADVICE WOULD YOU GIVE ABOUT MAKING ART YOUR FULL TIME CAREER?
Commit to your Art fully and don't have a plan B. Make sure you like to be alone for 14 hours a day for the rest of your life in front of a canvas, working, studying and getting better. Take every opportunity that matches your goals and give 100% of your efforts. Don't mind the people who criticize or don't like your art. Welcome those who do appreciate it. Develop your personal voice. Make sure your art is not aimed at pleasing your peers, teachers or family.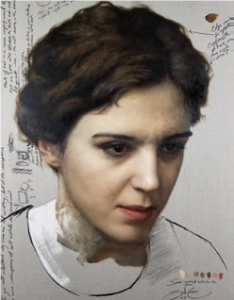 WHO ARE YOUR BIGGEST INSPIRATIONS?
I find myself most inspired when I visit museums, especially collections that show the highest standards of artistic achievement. Every time I encounter technical dexterity allied with a personal vision it gets me motivated to work.
WHAT IS THE IMPORTANCE OF SKETCHBOOKS?
Sketchbooks are the place to rehearse, to test your abilities, to have fun. Sketchbooks are a recollection of who you are and who you have been. For me, a sketchbook is the ability to do art and express myself anywhere I go.
WHAT ARE YOUR FAVOURITE BRUSHES AND WHY?
I started painting on canvas when I was in high school. I was using whatever the teachers offered in the classrooms. Mainly acrylic paint on bad rough cotton canvas and cheap mass-produced brushes. Then I wondered why it was so difficult to paint! I have come to realize that great tools allow for freedom of expression. It is difficult enough to have a good eye/hand co-ordination, to paint powerful images. The last thing you need is bad tools that get in your way as you paint. I don't use random brushes anymore, I use Rosemary Brushes. I recently sent them a photo of my dirty brushes to allow people to know what I use to create my portraits. I am glad they have a ready-to-go Cesar Santos Set with my favourites!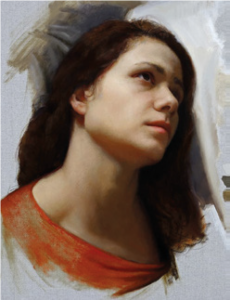 HOW DO YOU GET IN THE ZONE?
I don't know how to be out of the zone, my life is my zone! As I go to sleep I think of what to do the next day, as I travel through the day new things come up for the next painting and so on, including and planning to not doing anything some days.
WHERE DO YOU SEE YOURSELF A YEAR FROM NOW?
Let me visualize and be specific; I see myself with a newly developed body of work. About two dozen paintings that should exhibit in New York, France and Art Basel. In a year from now I should have about 50 more videos uploaded to my YouTube Channel. In a year I should have increased my strength at the gym as well as in my relationship with my wife. I also want to start dedicating some time to writing comedy, I've always made people laugh privately but perhaps is time to test my humour publicly.
IF YOU COULD ONLY PAINT ONE SUBJECT FOR THE REST OF YOUR CAREER, WHAT WOULD IT BE?
Wow, we need to get hypothetical here! I would paint women.
WOULD YOU LIKE TO VISIT ROSEMARY AND GIVE YOUR OWN WORKSHOP?
Of course! I would love to witness how the brushes I use are made. It would give a new dimension to my knowledge and experience while I paint with them. I love giving workshops but if you look at my yearly ambitions, I can't find the time to schedule it in without sacrificing my career plans.
Love you Rosemary, thank you for this invitation!
Images courtesy of Cesar Santos. Please visit Cesar's website at: www.santocesar.com
You can see Cesar's brush set online at: www.rosemaryandco.com/cesarsantos