James Sulkowski is an established Classical Realism artist. 
James graduated from The Arts Student League of New York and has had an impressive career since; From publishing his first full-length book; Mastering Oil Painting in 2013, to hosting 11 seasons on the instructional show Let's Paint on public access television.
James' timeless works have been displayed all over the world – notably in the White House and the Metropolitan Opera House in New York City. We're delighted he wanted to write something for us on the importance of good brushes and what that means to him. He is a long time user of Rosemary Brushes and we're so happy to share his incredible work with you.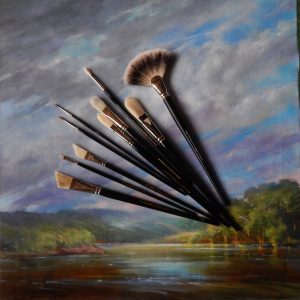 The Importance of Good Brushes
By James Sulkowski
I've taught oil painting workshops throughout my career as an artist and I always tell my students that 'you're only as good as your brushes.' 
What I mean is that without the proper tools (brushes) an artist's ability to express themself is compromised.
Artists need a brush that holds the paint, covers the canvas well and doesn't shed its bristles. Rosemary and Company brushes fill all these needs because of their fine quality of construction and materials.
I recommend white, hogs hair bristle brushes of all sizes from rounds to filberts. I use mostly filberts but I also like the selection of flats and angular brushes that Rosemary offers. 
When I paint, I stay with the bristle brushes because of the control of the brushstroke that I can get. Students too often use soft brushes in building a painting. These are good for the finish when it comes to thin color glazes. The round sable brushes are what I call ' the drawing brush.' Save these brushes for the final touches or details of the painting. I have a selection of Rosemary sables from 0 to 6. 
So the bristle brushes are for building the painting; its forms, background, textures and so forth while the sables are used for finishing when it comes to a leaf, an eye, a tree branch, a flower petal or stem etc.
As far as my technique is concerned, I subscribe to the Classical approach where the darks are kept transparent and the lights are built up opaquely and even with impastos and later glazed. This creates a depth and luminosity that I feel is unequaled.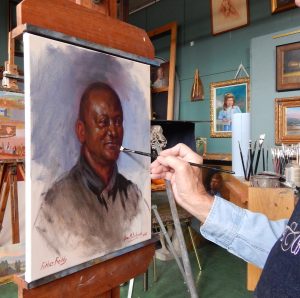 The brush I'm using on the landscape painting is an Ivory Rigger that is perfect for the sharp detail I want for my tree branches.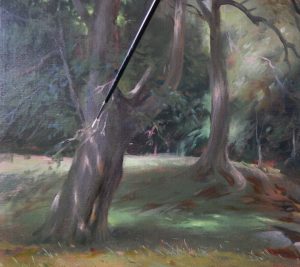 The brush I'm using in the still life is an Ivory Pointed Round that really holds the paint as I build a thick impasto stroke.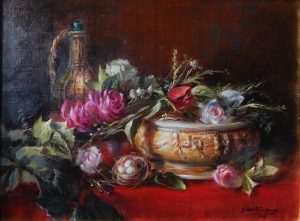 The brush shown in the floral painting is a Kolinsky sable which is great for my crisp finishing details of stems, petals, buds and leaves.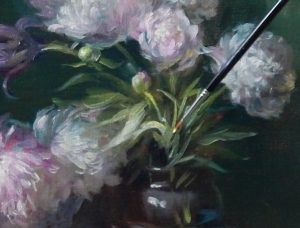 I welcome you to visit James' website to see more about his art: https://www.jamessulkowskifineart.com/ 
And also to: www.patreon.com/sulkowskifineart . You can also subscribe to James' youtube channel where you'll see numerous free art lessons: www.youtube.com/@jamessulkowski9802